Red Wine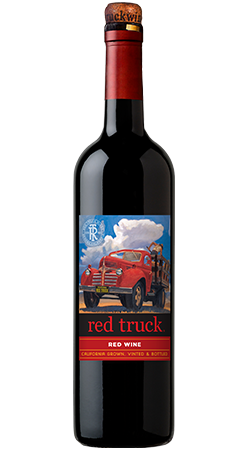 Dark jammy blackberry and blueberry aromas abound while hints of eucalyptus and black tea offer a beautiful beginning. With a smooth medium- body, this wine can be enjoyed with family and friends. Fill'er up and enjoy!
Wine Specs
Sugar
Glucose/ Fructose: 2.66 g/L
Wine Profile
Production Notes
39% Pinot Grigio, 29% Petite Sirah, 14% Cabernet Dorsa, 18% Proprietor's Blend
Winemaker Notes
Winemaker: John Allbaugh
Food Pairing Notes
Team this red blend with beef or lamb plates, pasta, spicy foods, and cheese.
Product Reviews
Vern Ramseyer
(Jul 8, 2017 at 4:28 PM)
Was introduced to the Red Truck Red Blend back to 2007/2008 when it was sold in a great 4L barrel. Have bought this in bottles ever since. Just picked up 6 at Total Wine. Very smooth, dry Red Blend. For $8 a bottle it holds its own against much more expensive red blends.
CARMEN PAPA
(Jan 18, 2018 at 2:30 PM)
Red Truck Red is my favorite wine. I go way out of my way to get it try not to share it too much! :)